Bad Credit Car Loans In Boston MA

Do You Have Bad Credit? Don't Worry, Muzi Can Help!
Automotive Financing In The Boston Massachusetts Area
Do you have bad credit? Is it preventing you from getting a car loan? Many Muzi Chevy customers were in the same situation as you and they are now proud Massachusetts car owners!
Muzi Motors has been in the business since 1932 and has built strong relationships with numerous lenders in the region, many of which specialize in giving loans to customers with lower credit ratings. During these difficult economic times many customers are struggling and that is why Muzi works hand in hand with each individual to ensure that they are approved for their loan. 
100% OF CREDIT APPLICATIONS ACCEPTED!
At Muzi, our business managers are friendly, knowledgeable, and understanding of the struggles that each customer is facing in these difficult times. Let our team guide you through the process and into your next car, truck or SUV. We also offer
car refinancing
for customers interested in lowering their monthly payment or shortening their term.   
Get Pre-Qualified Today: 

Myths, Concerns, and Misconceptions about Bad Credit Auto Financing
There are a lot of places that say they have bad credit or no credit financing but are really just in it to make a quick buck.  At Muzi Chevy, we're in it with you for the long haul and want to see you happy with your New Massachusetts Car Loan. With all the double talk from other supposed "guaranteed car loan" places, it's hard to keep the facts straight.
Myth: I declared bankruptcy so I cannot get a car loan.
Fact: You can get an auto loan even if you've declared bankruptcy.
Muzi Chevrolet can help you get a car loan even if you have filed for bankruptcy. If it hasn't been fully discharged, you may need an authorization to incur debt from a bankruptcy trustee first.
Myth: My vehicle was repossessed so I cannot obtain a car loan.
Fact: You can obtain a MA Car Loan even if you vehicle was repossessed.
Muzi Chevy can help you qualify for a
bad credit auto loan
  even if you've had a car repossessed.

Myth: My credit is bad so I will need a huge upfront payment.
Fact: You don't need a huge upfront payment.
If a large upfront payment is sprung on you at the last minute, it could be a sign that you aren't at a reputable dealer. Muzi Chevrolet won't slam you with an unreasonably huge down payment along with your Bad Credit MA Auto Loan.
Myth: I don't have much of a credit history so I won't be able to obtain a new car loan.
Fact: You don't need an extensive credit history to purchase a vehicle.
It doesn't matter if you have no credit or bad credit.  We can help you get a
Massachusetts Car Loan
  at a rate you can afford.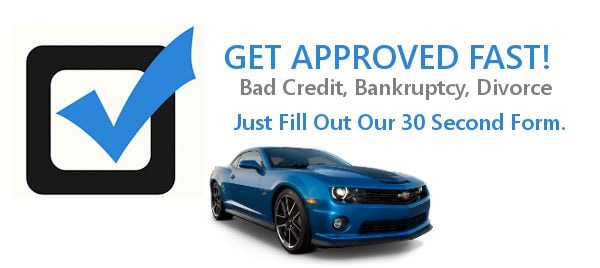 Just fill out our 30 Second Quick Form
below and let the Muzi Chevy loan specialist get to work for you.