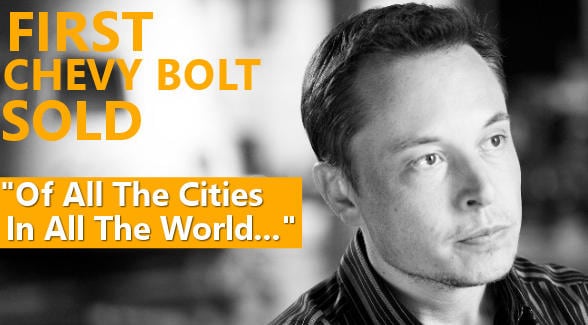 First Chevy Bolt Sold To Customer In Fremont, CA

The long wait is finally over for drivers in California. Earlier this week, the first Chevy Bolts were delivered to drivers in the San Francisco Bay Area.
In a shot across the bow at Tesla, GM's first new Bolt customer was Bill Mattos a retired law officer living Fremont, California. If Fremont rings a bell, it may be because it is the city which is currently home to the Tesla factory.
For Tesla CEO, Elon Musk, it must have conjured up memories of Ingrid Bergman walking into Rick's Café American in Casablanca.
"Of all the gin joints in all the towns in all the world, she walks into mine."
Ironically, the facility was formerly known as New United Motor Manufacturing, Inc. (
NUMMI
), a joint venture between General Motors and Toyota in which GM learned lean manufacturing from Toyota and Toyota opened its first North American plant.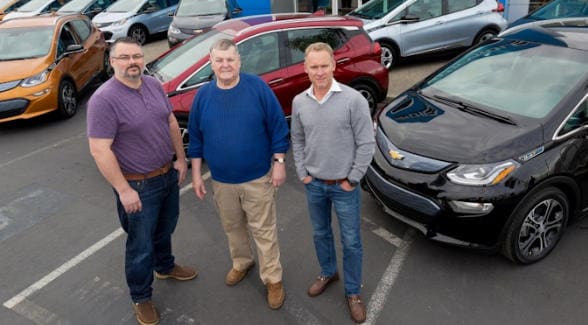 For now, GM has reclaimed the streets of Fremont with the first affordable 200+ mile EV available on the market today. With a starting MSRP of $37, 495 before any rebates or Tax Credits are applied.
Joining Bill Mattos in the inaugural Bolt EV club were Steve Henry, a commercial real-estate broker, and Bobby Edmonds and software developer. All three are current EV drivers. Steve Henry is leaving behind his Toyota Prius, Bobby Edmonds is ditching his BMW i3 and Mattos is upgrading from his Chevy Spark.
Click Here To Check out this Head To Head Comparison Between the Bolt and the BMW i3.
According to Bobby Edmonds, he is enjoying the new BMW i3; however, the range is insufficient for his needs and aggressive driving style. "I like to put my foot in it. At that speed, the i3 only delivers 55 to 60 miles of range."
With 266lb-ft of torque (compared to the BMW i3's 184lb-ft of torque) and 238 miles of range the Chevy Bolt,
2017 Green Car of The Year
, should be the perfect vehicle for him with impressive range and impressive 0-30 MPH acceleration.
When Will The New Bolt Be Available For Pre-Order in Massachusetts?
Chevy planned to the role the Bolt out in late December 2016, but it appears that only residents of California and Oregon will be getting behind the wheel of the new BEV this year. Chevy currently has a number of Bolt's in transit shipping to both CA and OR.
Chevy Dealers in Massachusetts, and across the northeast, have just started to receive their allocation of New Chevy Bolt's in the order banks. Muzi Chevrolet will receive a handful of Bolt's right out of the gates and we are excited to place custom orders for our first set of MA Bolt customers.
The
Chevy Bolt should be available for Pre-Order in Massachusetts by the end of December or early January.
In addition to the available tax credits, we are expecting some competitive
Chevy Bolt Lease offers
and purchase rebates to be rolled out by GM.
As soon as the Chevy Bolt can be ordered we will let everyone who has requested information know the latest details. We will take orders of the new Bolt on a first come first served basis. To get on our Bolt Pre-Order list Click Here.
Massachusetts Chevy Bolt Pre-Order List
.