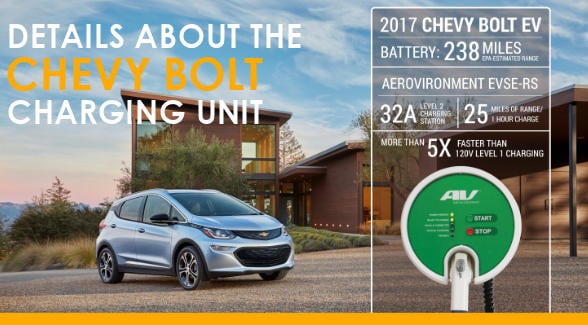 New Chevy Bolt Charging Unit Price, Availability, And Specs
We're excited to announce that we have already placed our first few orders for the new Chevrolet Bolt EV here at our Massachusetts Chevy Dealership and we have more orders coming down the pike this week!
The first few
Chevy Bolt Pre-Orders
were all custom built for local MA customers and we should have an additional 3 Bolts available for custom pre-order on Thursday. So whether you are looking for a Premier or an LT, a Cajun Red Tintcoat or Orange Burst Metallic we have you covered!
Available Chevy Bolt Colors:
| | |
| --- | --- |
| Summit White | Silver Ice Metallic |
| | |
| --- | --- |
| Arctic Blue Metallic | Kinetic Blue Metallic |
| | |
| --- | --- |
| Orange Burst Metallic | Cajun Red Tintcoat |
| | |
| --- | --- |
| Nightfall Gray Metallic | Mosaic Black Metallic |
Interestingly, no matter which colors our first Bolt clients chose, every single customer, so far, has added the new Chevy Bolt charging station to the order. So, let's take a closer look at the pricing, design and specifications of the new
Chevy Bolt Charging Station
.
Who Designed The New Bolt Charging Station?
The new 32-amp EVSE-RS
Chevy Bolt
charging station was designed and built by AeroVironment, an American aerospace company that develops unmanned aircraft systems, missile systems and a suite of electric vehicle charging stations.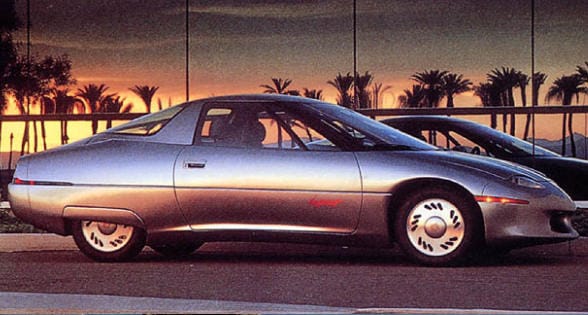 Aerovironment & GM teamed up for their first electric concept car back in 1989
According to GM Bolt EV product manager, Darrin, Gesse, "We selected AeroVironment due to their strong brand recognition, reputation for reliability, and decades of leadership in supporting EVs."
Interestingly, GM's connection with the California company goes back to 1989 when it developed the GM Impact concept car, which later went on to become the EV1.
AeroVironment
has developed quite a few charging stations that are compatible with a variety of EVs from different auto manufacturers including Ford, Fiat, BMW, Nissan, Toyota even Tesla.
Since its inception in 1971, AeroVironment has also developed quite a few innovative vehicles including the
Gossamer Condor
- the first successful human-powered airplane and the NASA Pathfinder and Pathfinder Plus – unmanned, high altitude, solar-powered planes that can serve satellite functionality.
How Long Does It Take For The Chevy Bolt To Charge?
With an EPA estimated range of approximately 238 miles, the Bolt has effectively removed range-anxiety from the EV equation. But the question remains, how long does it take for the Chevy Bolt to charge?
Well, the charging process hasn't quite caught up to the speed of filling up at your local gas station, but the technology is rapidly improving. With Level 3 DC fast chargers, that are becoming increasingly available across Massachusetts, the Bolt will be able to gain about
90 miles of range within about 30 minutes
of charging.
At your home, you will need to install a Level 2 Charging system. With installation of the new 240V EVSE-RS charging station, the Bolt's 60-kWh lithium-ion battery can be charged at 7.2-kW, giving the GM EV
25 miles of range for each hour of charging
.
So, for a full charge on the home system it would take about 9.5 hours, or overnight. That works out well because nighttime charging is generally the most affordable because the utility rates are at their lowest, with off-peak pricing.
Charging The Bolt Is Akin To Charging Your Cell Phone
GM is essentially comparing the charging of the Bolt to charging a cell phone. On a day to day basis you will not need to fully charge your cell phone battery. Many times you will plug in to recharge a bit and go on your way.
Similarly with the new Bolt, you may only need a 30 minute fast charge boost and you can head on your way with 90 miles of range, which is more than enough for the average US commuter. Then, when you are at home or at the office you can top the battery off.
With the new MyChevrolet App and other apps such as Chargepoint that are currently available for your smartphone and will give drivers the location of all of the Level 2 Chargers and DC Fast Charging Units that are available along your route.
Where Can I Buy The New Chevy Bolt Home Charger?
Perhaps the best part about the new Chevy Bolt Charging System is that GM has made it an official accessory allowing customers to purchase the new charging station directly from the dealership.
The cost of the new Bolt charger is about $699.
The new charger can be installed either inside or outside so you can install the unit in your garage or, if you do not have a garage, you will be ok installing it on the exterior of your property.
The 240V charging system charging unit will require professional installation, so you should reach out to a local electrician for assistance. If you live in an apartment, condominium or other multi-family dwelling you should reach out to your property manager to discuss the potential installation for charging units.