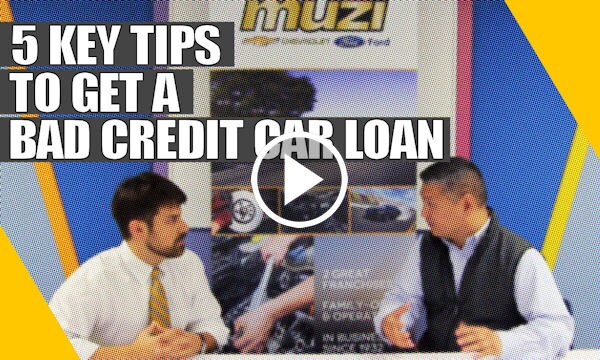 5 Tips To Help You Get A Bad Credit Car Loan
Marshall:
5 key tips to help you
get a car loan with bad credit
, next, on the Muzi Minute.
Marshall:
Hey guys, welcome back to the Muzi Minute, this is episode #6 and today we will be discussing
bad credit car loans
. And, with us here we have our financing expert and Ford General Sales Manager, Peter Swindells. Welcome Peter.
Peter:
Thank you Marshall. Glad to be back.
Marshall:
Here at our dealership we see a lot of people month in and month out that are struggling with credit, that need a little help, so Peter's put together a nice list of
5 key tips to help you guys get a bad credit car loan.
Tip 1: Get A Secured Credit Card

Marshall:
The first tip that Peter put together is get a secured credit card.

Peter:
Yeah this is probably one of the best ways for someone to build up their credit file. It's very simple and there are some local banks and credit unions that are on board with helping individuals establish a better credit rating.
And, it's very simple, what you do is you take a little bit of money, you go into a bank or a credit union. And, you make a deposit into an account. Where, in a sense, they are going to hold that money and extend you some credit. So, it gives you an opportunity to prove yourself. So you are able to make monthly payments and what they are going to do in return is report to the credit bureaus that are out there that you're doing the right things to create a relationship with the banks and your credit file.
Marshall:
And what type of timeline are people looking at for a lift in that type of scenario?

Peter:
Typically, we'll see an increase in about 6 months or 6 on time payments. That's about the average time that it takes for it to really make a positive impact on one's credit file.
Tip 2: Check Your Credit Report
Marshall:
Awesome, so tip number 2 we have – check your credit report.

Peter:
Yeah, you'll be very surprised. As a consumer, you want to get a hold of your credit file. There could be some bad information that is being reported under your name. Someone may have a very similar name, that is something we see commonly. If there are some past due medical bills that you were unaware of. You know that is information that is reported to the credit bureau.
So what we recommend to anybody is to get your copy of your credit report. You're entitled to a free one every year. All
3 major credit reporting agencies
will give you that information. But it's great information to know exactly what's out there. And what's being reported under your name. It's very important.
Tip 3: Find A Friend Or Family Member To Help
Marshall:
Next up is find a friend or family member to help.
Peter:
Yeah, sometimes this can be the most difficult part. You know, if you have some friends or family members that are maybe aware of your situation. Maybe you had some life changing events. Something happened to you where it threw you off course a little bit. And, if they're understanding, sometimes they will go out on a limb and help you out. If they know who you are as person. As I say, bad things, unfortunately, happen to good people. And this is one of those instances where it may be helpful to reach out to a friend or family member and say, you know, I've had a few ups and downs. And maybe they'll be understanding and be able to help you out with obtaining credit.

Marshall:
Yeah, I mean, it can definitely be a tough ask and it can be a little embarrassing, but it's something that you guys see people helping each other out all the time.

Peter:
We do. In this day and age there are a lot of people out there who understand ups and downs. So they're willing to go out on a limb and help out a family member or friend. It is a sensitive subject, but it is certainly worth asking.
Tip 4: Work With Specialists
Marshall:
Alright, next up is work with specialists.

Peter:
Yeah there are some options out there. There are some companies out there and some individuals out there that will try to help you out. But, basically, what they're doing is everything that we're talking about. So they're going to check your credit for you and they're going to recommend some things to help you establish your credit rating. Such as getting the secured credit card or a loan. And, they may have a program where they can get other lenders involved to assist you depending on your credit situation. There are some specialists out there as we tell everyone, buyer beware. Just make sure that you are going with someone reputable that has a good better business bureau rating or has a good reputation online so that you know who you are dealing with. But, certainly, there are specialists out there who will help you out and help you increase your credit rating.

Marshall:
Ok Great
Tip 5: Be Patient
Marshall:
And, finally, we have – have patience.

Peter:
Yeah this is all too familiar with us. You know, one thing with credit is that it takes a while to build it up and to get a great credit rating. And, unfortunately, it doesn't take much to ding your credit.
Marshall:
Right.
Peter:
Unfortunately, when you have some credit problems, it does take a little bit of time. It's not a quick overnight fix. It's not a quick week fix. So there is some time involved. And that is, again, just to reprove yourself as an individual and your creditworthiness. It's not going to happen overnight, but just be patient and do the right things. And a little bit of time passes and you will notice that your credit rating and credit scores will go up again.
Marshall:
Awesome. Alright. There you have it folks, some really important tips to help you guys out when you're looking to purchase a new vehicle. I'll put Peter Swindell's email in the comments below so you guys can shoot him an email if you have any questions. And you guys can pick us up on
YouTube
,
Spreaker
, and iTunes. So look for us and we look forward to seeing you guys again next week.