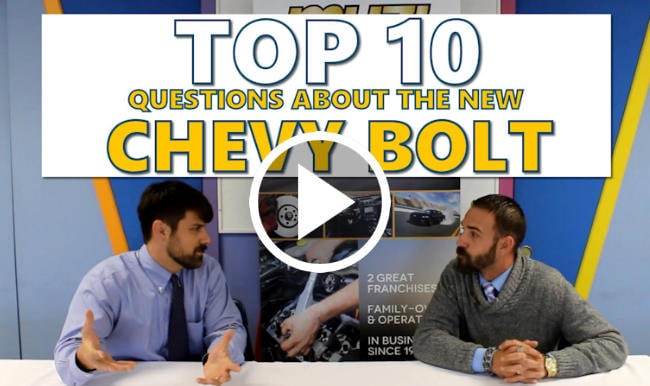 Here is the transcript to the first
Muzi Minute Podcast
on the Top 10 Questions About The Chevy Bolt EV.

Marshall:
Hey everyone, welcome to the first edition of the Muzi Minute! The Muzi Minute is an automotive podcast that covers everything in the automotive industry from the sales to the service to the parts department in an effort to help you, the consumer. My name is Marshall Tulley and I will be your host on this journey. Let's dive right in.
I'm really excited about our first guest. Our first guest to the program is Rob Roderick. He's our electric vehicle specialist here at the dealership and Rob is here to answer the Top 10 Questions about The Chevrolet Bolt! Welcome Rob.
Rob:
Thank you for having me. My name's Rob and I'm the electric vehicle specialist here at Muzi Chevrolet.
Marshall:
Alright so let's get rolling. New Release.
Chevy Bolt
. All Electric. Really really excited to have the product here at the dealership. Sort of touted as being the first affordable, long range electric vehicle to hit the market.
Rob:
That is correct. The Chevy Bolt has come out in the LT and Premier model trims both getting an epa estimated range of 238 miles.
Marshall:
So that was the first question – what kind of range the Bolt has. Now does that range get affected in New England by the weather, driving habit and things like that.
Rob:
It does. Range will roughly fluctuate about 10 to 20 percent. Whether that be on cold days depleting a little bit of ranger and warmer days exciting that epa estimated miles of range.
Marshall:
Are there any tips you can provide the consumer to sort of maximize that range?
Rob:
That Bolt can actually be prepared in advance during the charging for departure times in which case you can set it up 10 to 15 minutes before your departure to warm the batter so that you are getting the full extended range.
Marshall:
Ok. You know until the Bolt's release, range anxiety was obviously a major issue for consumers. How is development of the charging infrastructure across the state of Massachusetts going?
Rob:
The charging infrastructure across the state of Massachusetts has been huge. The Mass Pike has actually done an overhaul now where a lot of the stations now and gast stations are having electric charge point setup. You can even find a lot of that infrastructure on apps like plug share and charger point. ?Now the Bolt having my Chevy App you can actually see all the charging that is applicable to you right on the app on any commute that may have.
Marshall:
Ok. So I'm a consumer, I purchase a Bolt, drive it home, how long am I going to have to plug it in to get a charge?
Rob:
Well, we always recommend doing a
240 Volt charging unit
. The 240V unit will get you about 8-10 hours to a full max charge. We also carry, here at Muzi, a DC fast charger that will get you charged up in about 2 hours of time.
Marshall:
Okay, and can you plug in anywhere with that type of charger that the Bolt has or are there certain plugs that you can plug into?
Rob:
The Bolt comes with a 120 Volt portable charger, in which case does take about 51 hours on that charge. 240 being the CCS charger SAE Combo charger fairly standard across the board now with the exception of the Chademo charger or Tesla's charging units can be found mostly anywhere. It will take about 8-10 hours for a full charge and we definitely recommend the 240v.
Marshall:
So, consumers that have been buying electric vehicles from Chevy in the past were familiar with the Chevy Volt and now they've released the Bolt. What's the difference between those 2 vehicles.
Rob:
The main difference is that the Volt is a range extending vehicle so there is a gas backup and it provides 53 miles of pure electric with a 1.5L 4 cylinder range extender to back you up. It has another 378 miles roughly of range in which case when the gas backup steps in it acts as a converter so you're still an electric vehicle but just with a gas conversion.
Whereas the Bolt is a 238 pure electric driving miles.
Marshall:
Ok. And what are the differences. I mean, what are the different trim levels of the Bolt?
Rob:
The Bolt comes in an LT trim level versus a premier trim level. The LT trim level comes with cloth seating. Same range, and does come with some nice safety features. Add to that a 10.2 inch touch screen, apple carplay and android auto.
When you step up to a Premier model you get a few more things in the way of technology with leather added, of course. You have a surround vision camera as well as a rear view mirror to add to just an unobstructed rear view of the vehicle. As well as all of the safety features you can find on the LT.
Marshall:
Nice. So I think that in addition to electric ranger and the environmental impact of the vehicle. One of the main draws seems to be the tax incentives that are available to federally and at the state level. Could you go into what those incentives are and how someone could go about claiming those?
Rob:
Correct. On the purchase side of things there is $10,000 available in subsidies. The $2,500 would be a state exemption application process that can be found on Chevy.com or MOR-EV. They make it nice and easy.
It's really just a click and plug where you plug in your purchase and sale agreement and send it over. For leasing, you do have to lease for 36 months. There is also a $7,500 state exemption for purchases, whereas on the lease side you do not get this federal exemption, you only get the state exemption.
Marshall:
Thanks. So I think that was pretty comprehensive. We went over the top ten questions that we receive here at the dealership. But if you guys have any additional questions I'm gonna put Rob's email below. Feel free to reach out to him with any questions.
Thank you guys so much for tuning in to the first episode. We're gonna try to make this a weekly podcast and we look forward to seeing you again soon.
Any Questions About The Bolt EV?
Feel free to reach out directly to Muzi Chevrolet EV Specialist, Rob Roderick at rrroderick@muzimotors.com