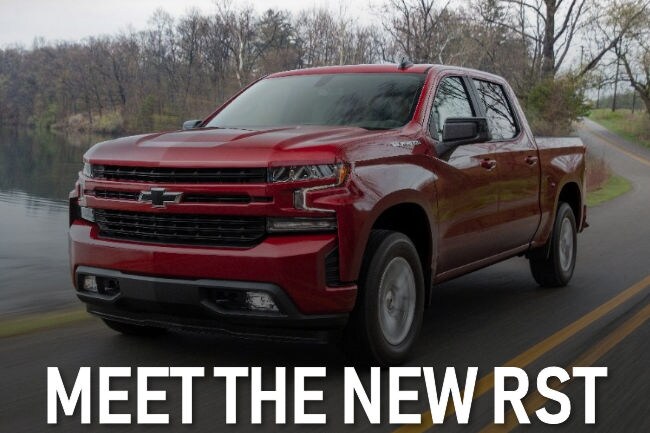 2019 Chevy Silverado RST Firing On 1 Or All 8 Cylinders
Here at Muzi Chevrolet, we are excited to announce the arrival of the all-new 2019 Chevy Silverado RST now available for our customers in the Greater Boston, Needham, Newton and Norwood area.
When designing the brand-new Silverado RST trim, Chevy engineers took into account a number of suggestions from younger focus group members who were not very keen on Chevy's substantial use of chrome.

Utilizing these suggestions, a new trim was born and we think that Chevy knocked it out of the park. So, without further ado, let's take a closer look at the new 2019 Chevy Silverado RST.

2019 Chevy Silverado RST Powertrain
The new 2019 Chevy Silverado RST is powered by a 5.3L V8 that churns out an impressive 355 horsepower and 383 lb-ft of torque. It's mated to an 8-speed automatic transmission that provides a smooth ride in just about any terrain.

Through the incorporation of aluminum into the hood, doors, and tailgate, engineers were able to shed about 450lbs from the new Silverado, making it more efficient and powerful with an impressive 12,200 lbs of towing capacity.

Chevy learned from one of its competitors (*cough *cough operating in Dearborn) that aluminum beds were not the most not the most practical. So, Chevy opted for a high strength steel bed.
Perhaps on the of the most interesting and innovative features of the new RST powertrain is the cylinder deactivation system which allows the truck to operate on 1 or all 8 cylinders providing for optimal fuel economy.

2019 Chevy Silverado RST Design Features
RST stands for Rally Sport Truck and Chevy engineers made this one stand out from the pack. After receiving some customer feedback indicated a body color preference (similar to that of the old Z71), Chevy engineers went to work.
The new 2019 RST comes equipped with body color bumper, grille, door handles, and mirrors. It also comes with black bowtie badging, LED lighting, new auto start stop functionality, and can be equipped with 22 inch wheels.

2019 Chevy RST Is Loaded With Technology
Chevy engineers did not skimp on technology either. The new 2019 Chevy Silverado RST comes equipped with a new responsive 8-inch color touch screen infotainment system complete with WiFi hotspot and Apple CarPlay / Android Auto compatibility.

A new Bose Speaker System provides a high-quality audio experience for drivers and passengers.
The 2019 Chevy Silverado RST also comes with the latest safety features including blind spot monitoring, rear cross traffic alert and back up camera functionality.

We are excited for the 2019 Chevy Silverado RST Boston, MA arrival and think that our customers are going to love this new trim level as much as we do.