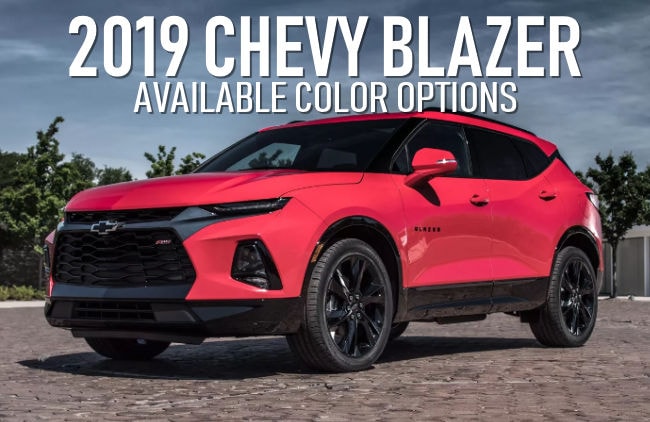 2019 Chevy Blazer Color Options | At Muzi Chevy serving Newton, MA
The Blazer is back! Now that the new
Chevy Blazer
model has arrived on the Muzi Chevrolet lot and dealerships across the country it's time to take a closer look at the visual side of the SUV.

For most customers, having the ability to choose which specific features and performance levels come on their new SUV is only part of the customization process. Most people want to choose the color of their new vehicle. Sometimes this can be a decision based on location, for example if you live in Arizona, you probably won't want to have a Black colored Blazer. For others, they simply want to have the freedom to express themselves through the color of their vehicle.

The options that are available on certain vehicles can be a game changer for potential buyers. Sometimes customers will decide on a specific vehicle based on its available color options.

For those interested in the new 2019 Chevy Blazer, you can rest assured knowing that Chevrolet has provided a selection of awesome color options for the model. Let's take a look at the different colors that are available on the new Chevy Blazer.

2019 Chevy Blazer Color Options
The new 2019 Chevy Blazer is available in a palette of 10 colors. These colors include: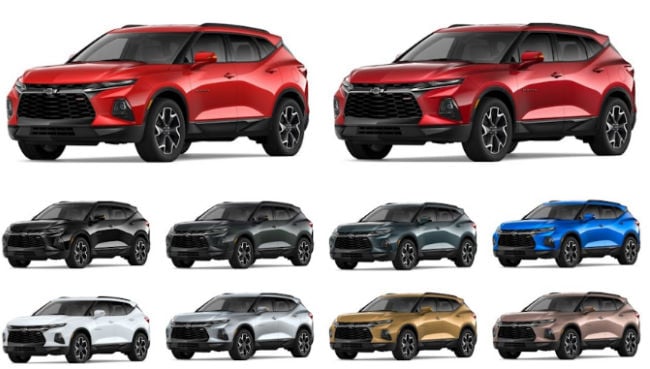 • Summit Bronze Metallic
• Red Hot
• Nightfall Gray Metallic
• Summit White
• Silver Ice Metallic
• Black
• Kinetic Blue Metallic
• Oakwood Metallic
• Graphite Metallic
• Cajun Red Tintcoat
What Are the Most Popular Vehicle Colors in the U.S?
We thought it would be fun to back away from just focusing on the Blazer and take a look at what the most popular vehicle color options are in the United States. Below are results based on research done by Kelley Blue Book.

Top Three Overall Colors
Silver: 23%
White: 15%

Black: 12%
Looking at the top overall popular colors in the U.S, for all vehicle categories, Silver leads the way, followed by White and Black as a close third.
Most Popular Colors for SUVs/Minivans/Light Trucks
White: 19.3%
Silver: 18%
Black: 12.4%
Med. Dark Blue: 11.4%

Med. Dark Gray: 7.5%
SUVs, Minivans and Light Trucks make up 50.9% of the new vehicle market in the U.S. Unlike all of the other categories, White is the preferred color for these vehicles, and has been for the last 10 years.
Buy Or Lease A New Chevy Blazer near Newton Massachusetts
Well there you have it! Everything that you need to know about the different color options available on the 2019 Chevrolet Blazer. We hope that you have found this post to be helpful.





If you are in the market to buy or lease a new Chevy Blazer near Newton, MA you will be happy to know that the new

Chevy Blazer Lease Deals

have been improved for the spring and summer market. If you are ready to check out the 2019 Chevy Blazer for yourself stop by our dealership for a test drive. Our friendly and knowledgeable staff will help you find the perfect Blazer for you…favorite color and all!