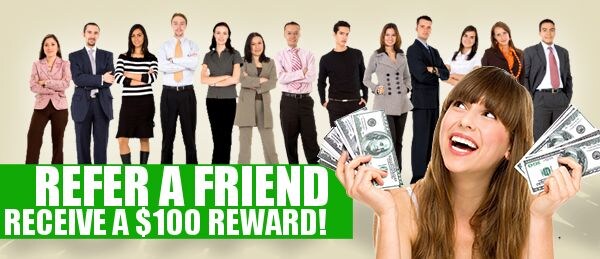 At Muzi Chevy, we appreciate your business and we want to give you an opportunity to make a little cold hard cash. With the Muzi Chevy Referral Rewards Program we make it easy!

Simply refer a friend to Muzi Chevy, and if that customer buys a car from us and takes delivery that referral turns into $100 for you and $100 for your friend! It does not matter which vehicle they buy - the program applies to all makes & models. 

Just fill out the form below for an opportunity to start earning. Your earning potential is unlimited!

Muzi $100 Referral Rewards Program
*Limit of one referral for vehicle sold; however, number of referrals is unlimited.

Sales Hours
Monday

9am-6pm

Tuesday

9am-6pm

Wednesday

9am-6pm

Thursday

9am-6pm

Friday

9am-6pm

Saturday

9am-5pm

Sunday

Closed
See All Department Hours
Dealership Hours
Monday

9am-6pm

Tuesday

9am-6pm

Wednesday

9am-6pm

Thursday

9am-6pm

Friday

9am-6pm

Saturday

9am-5pm

Sunday

Closed
Parts Dept. Hours
Monday

7:30am - 5:00pm

Tuesday

7:30am - 5:00pm

Wednesday

7:30am - 5:00pm

Thursday

7:30am - 5:00pm

Friday

7:30am - 5:00pm

Saturday

8:00am- 2:00pm

Sunday

Closed
Service Dept. Hours
Monday

7:30am-5:00pm

Tuesday

7:30am - 5:00pm

Wednesday

7:30am - 5:00pm

Thursday

7:30am - 5:00pm

Friday

7:30am - 5:00pm

Saturday

8:00am- 2:00pm

Sunday

Closed