Check Out the Chevrolet Suburban at Muzi Motors in Needham Heights, MA
We at Muzi Motors are very eager to work with you to help you find the perfect large SUV for your next adventure. Our incredible options call for a visit to our dealership as well as for a chat with our salespeople. We think the Chevrolet Suburban is one of the most exciting SUVs on the market, and it is certainly one of the biggest. With this incredible model you can enjoy endless adventure, total comfort and utilize the power you have come to know and love. Check out the in depth details on the Chevrolet Suburban below:
New Chevy Suburban Inventory
Exciting Interior
With this exceptional model, we know that you will be able to enjoy comfort through every adventure. The Chevrolet Suburban is a one of a kind vehicle, when it comes to space. This beauty offers up with an unbelievable cargo space behind three rows of seating, never mind the space you get when the seating is folded down. We also look forward to a huge selection of small item storage throughout, making your life easy when it comes to finding a spot for your phone, wallet, pocket change or road maps. Finally, the Suburban shows off incredible connectivity like never before.
Stay Online
With the Chevrolet Suburban, you will be able to do just that. This vehicle's interior allows for comfort, as well as incredible connectivity. The Suburban boasts access to Apple CarPlay and Android Auto, making it an incredible option for those of you that care to be able to reach out to family and friends on any and every adventure.
You will also be able to connect to your favorite podcasts, and of course, favorite road trip music without ever taking your eyes off of the road. These features make it easier than ever to enjoy lengthy drives, and to endlessly entertain you and your passengers.
Safety
With a long list of safety features that utilize the latest and greatest technology, you will have no trouble at all feeling confident and safe in your vehicle. We love this selection of safety features because they truly make it easy to remain comfortable and safe. Check out some of the incredible features that are available to you and your family that will give you a little extra peace of mind.
Available Automatic emergency Braking: This incredible feature can alert you if it detects that a front end collision may be imminent. In addition, it can reduce the severity of the collision by automatically applying the brakes if you have not already.
Available Forward Collision Alert: With this exciting feature you can be alerted if it detects a front-end collision. It can also alert you if you are following a vehicle too closely.
Available Safety Seat: This impressive feature provides you with a seat that vibrates as a warning as opposed to the traditional beeps that usually warn for crash avoidance alerts.
Available Rear Cross Traffic Alert: This next feature can alert you to possible traffic that may be behind you when you are reversing. It can also display warning triangles in the rear vision camera to better aid you safely out of your parking spot.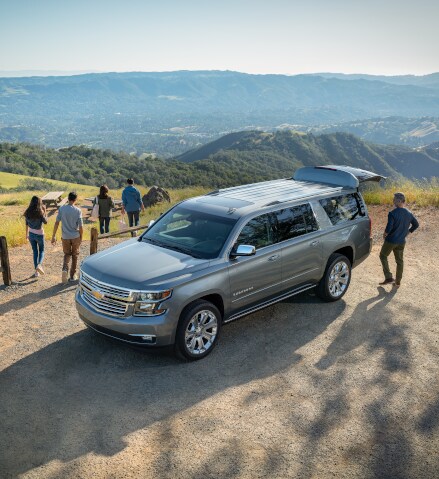 Exciting Performance
We are more than excited about the performance that the Chevrolet Suburban offers up. This incredible model shows off with an impressive 5.3-liter V8 engine that can give you up to 8,300 pounds of towing capacity. That is more than enough to haul the family boat to the lake, with the whole family. We also love the 355 horsepower that is offered up, and the impressive 383 pound feet of torque that is at your disposal. In addition to the standard options, the Chevrolet Suburban does also show off with an optional 6.2-liter V8 engine. These two engines will be sure to make your life easier than ever.
Trim Level Excitement
With the Chevrolet Suburban, you get options. Tons, of options. This incredible vehicle shows off with a long list of trim levels for you to chose from. We know the importance of being able to find a vehicle that matches your unique personality, and the Suburban is an absolute champion at that. This model has trim levels that add in utility upgrade, performance upgrade and even stylistic touches to ensure that your vehicle is a about you from start to finish. With these trim levels, you are in charge of your vehicles path, along with your comfort and entertainment. Check out the exciting list of trim levels listed below:
What Are the Next Steps?
Now that we have shown you just how incredible the Chevrolet Suburban really is, the next move is to schedule a test drive with us at Muzi Motors. We have an incredible selection of vehicles and the Chevrolet Suburban is one that will show off from start to finish. Our sales staff are delighted to help you through the process and to truly work with you to find out which trim level and model might be the best fit.
We welcome you to visit our showroom today to get the lowdown on all that we have to offer. Our financial department and our service center are fully equipped to work with you to ensure that you are getting the financial attention you deserve, and that your new Chevrolet Suburban is being maintained properly. We look forward to working with the Boston, Cambridge, Newton and Waltham, MA areas to find the perfect large SUV.