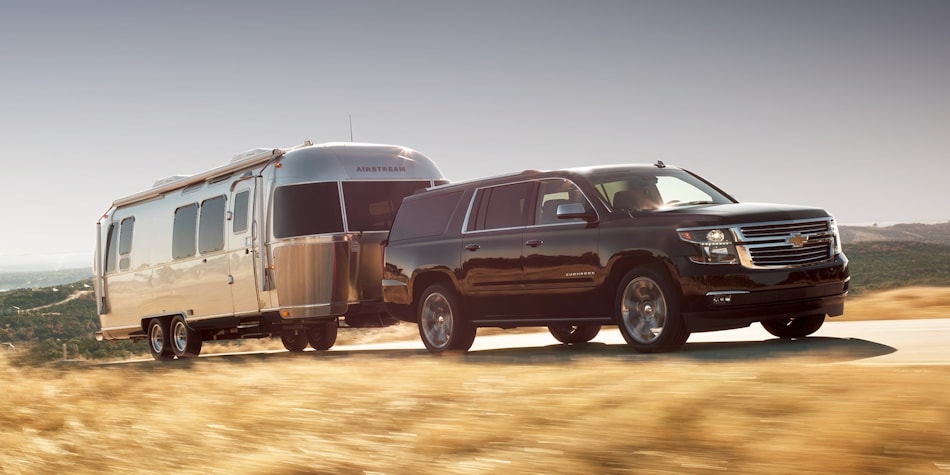 2019 Chevy Suburban Towing Capacity | Details on Towing With The Suburban
So, you're in the market for a new SUV and you are considering the new 2019 Chevrolet Suburban, great choice. The Chevy Suburban offers a quiet and spacious interior, a stylish exterior, all the latest technology and a smooth and confident ride.

The imposing 220-inch frame provides comfortable seating for up to 9 adults and an impressive 39.3 cubic feet of cargo room behind the 3rd row. This makes the Suburban the perfect SUV for just about any family vacation, concert with friends, or your next ski trip. 

But, how does the 2019 perform with a trailer attached? Let's take a closer look at the 2019 Chevy Suburban Towing Capacity. We think that you will be pleasantly surprised.

The New Chevy Suburban By The Numbers

The new Chevy Suburban has more than enough power to meet your needs, but for all those power junkies out there, Chevy actually added a new engine for the 2019 model year.

The standard Suburban engine is a
5.3L ECOTEC V8 that produces 355 horsepower
, 383 lb-ft of torque and is mated to a 6-speed transmission. The new RST and Premier Plus editions receive a
6.2L V8 that produces 420hp
and powers the Suburban from 0-60MPH in just 6.0s.
The 2019 Chevy Suburban can tow up to 8,300lbs!

The Chevy Suburban towing capacity is 8,300lbs when equipped with the optional trailering package. That is more than enough power to handle just about any of your hauling needs. Without the package, the standard Suburban can tow about 6,300lbs.

Taking a closer look at real-world applications: a 24-foot boat weights about 4,200 lbs and a with the trailer that adds up to about 5,500lbs. That's a breeze for the new Suburban which should be able to handle a good 28 to 32-foot boat. You should also be able to
tow just about any camper
, motorcycle, or a pair of sleds without a problem either.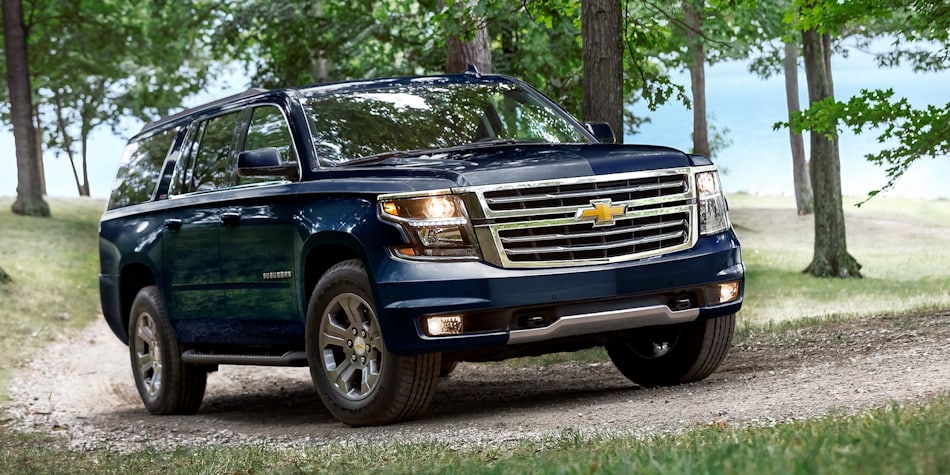 No question, the 2019 Suburban is capable of handling just about any hauling duties that you throw its way, but before you decide which to purchase, you should speak with one of our Chevy SUV specialists. They can help point you in the right direction and go over your available options so that you are fully informed before purchase.
If you need some additional towing capacity you may want to consider the Chevy Tahoe, which can tow up to 8,600lbs or one of our beautiful HD Silverado trucks which are quite capable. There are many ways to skin this cat in style and comfort.
A Helpful Video Review Of The 2019 Suburban